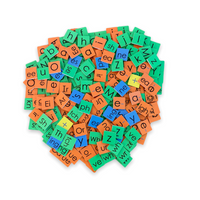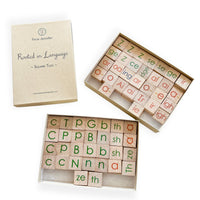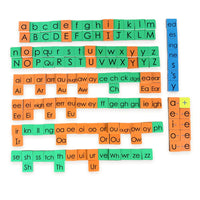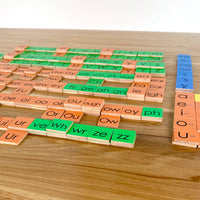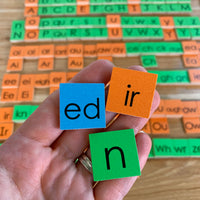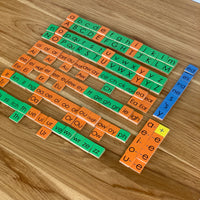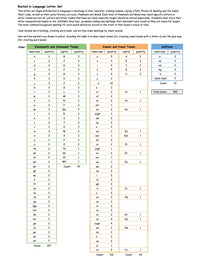 Square Tiles - Rooted in Language
Regular

$60.00
Sale

$60.00

Regular
Unit Price

per
This letter set of 300 wood tiles aligns with Rooted in Language's teachings in their educator training classes, Laying a Path: Phonics & Spelling and the Vowel Chart class, as well as their early literacy curricula, Pinwheels and Wand. Each level of Pinwheels and Wand may teach specific letters or letter teams but not all. Letters and letter teams that have not been explicitly taught should be stored separately.
Uses include word building, creating word sums, and sorting vowel spellings by vowel sounds.
Non-written markers are shown in yellow, including the dash in broken vowel teams (for creating vowel teams with a Silent-e) and the plus sign (for creating word sums).
- - - - - -
These tiles will fit into the following products:
Ten Frame with Square Pockets
Twenty Frame with Square Pockets
Hundred Frame with Square Pockets 
Multiple Rows Tray
Single Row Tray
Keyboard Vision Board
Rooted in Language provides literacy instructional materials for typical learners as well as those with dyslexia, dysgraphia, and other language struggles. They also provide educator training for homeschool parents, tutors, and classroom teachers, covering all the key areas of language arts. Visit www.rootedinlanguage.com for more information.
- - - - - - -
DIMENSIONS: 1 inch square x 1/8 inch thick
INCLUDES: 300 square tiles. (Board NOT included).
MATERIALS: Maple wood printed with ink. 
PLEASE NOTE: The full color ink will have a freshly printed smell that should dissipate once the tiles are in use and have time to air out. It is like the smell of a photo that has just been printed. However, if you have a sensitivity to ink smell and prefer the letter font be colored instead on a wood background, please choose the Wood Background option.