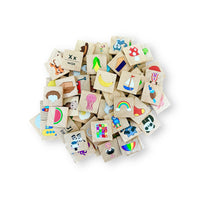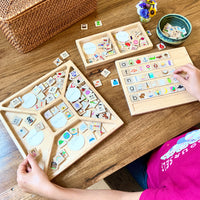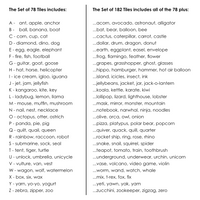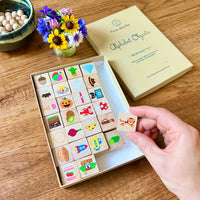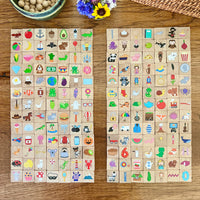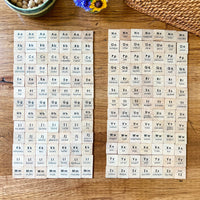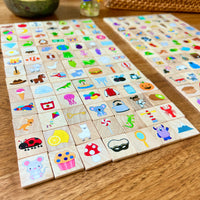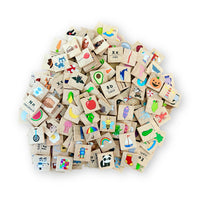 Square Tiles - Alphabet Objects
Regular

$20.00
Sale

$20.00

Regular
Unit Price

per
This collection features cute objects on the front of each tile and the featured letter and name on the backside. Every letter of the alphabet has a group of corresponding pictures. Some ideas for play include:
* Identify beginning letter sounds for each image.
* Sort images into letter groups.
* Use with our Alphabet Tiles for spelling the word for each image.
* Use the tiles for story-telling ideas! Perhaps the "pig" cruised his "yacht" across the sea, plucking away at his "guitar." Or maybe choose one image and let your plot go from there, with new images inspiring fresh ideas as you go!
* Sort by colors or whether it is a person, place, thing, or action. Or an animal or object, land or water, food or clothing, etc.
- - - - - - -
The Set of 78 Tiles has three images for each letter. For example, the A group will have ant, apple, and anchor. 
The Set of 182 Tiles has seven images for each letter. For example, the A group will have ant, apple, anchor, astronaut, alligator, acorn, and avocado.
Choose this set for images with the initial letter sound and images with simply the beginning letter (not as directly sound related).
These tiles will fit into the following products:
Ten Frame with Square Pockets
Twenty Frame with Square Pockets
Hundred Frame with Square Pockets
Multiple Rows Tray
Single Row Tray
Keyboard Vision Board
- - - - - - -
DIMENSIONS: 1 inch square x 1/8 inch thick
INCLUDES: 78 to 182 square tiles. (Board/Trays NOT included).
MATERIALS: Maple wood printed with ink.