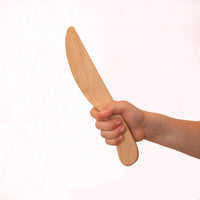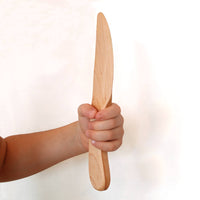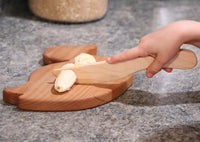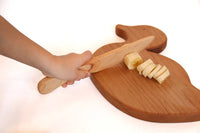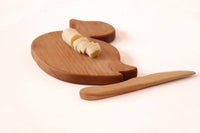 Child's Wood Kitchen Knife
Regular

$16.50
Sale

$16.50

Regular
Unit Price

per
This simple wooden knife is child-sized with a blunt edge that is suitable for cutting soft foods such as bananas, strawberries, olives, and avocados. If you first prepare other foods, it will chop peeled cucumbers, zucchini cut into quarters, and apple wedges. Please note it is not sharp like metal knives, so this will be a rough chop rather than smooth slice, but for a young child wanting to help in the kitchen, they'll be proud when using their knife. Also, this may be used for spreading butter onto bread, icing onto cake, or making a peanut butter and jelly sandwich. Cut cornbread, pies, and cakes as well.

The knife is 8.5-inches long and 1.5-inches wide. It is carved from solid maple hardwood and finished with natural oil, which is food safe and non toxic.

Care Instructions: Rinse the knife off with water after use (soap can be used as well). Let fully dry between uses--wet wood is pliable and might bend if used for cutting when wet. Never leave to soak in water or run through the dishwasher.
----- Made to order and ships in two to three weeks. -----
Note: The duck cutting board in the last few photos is not included with this listing. We offer them separately in our shop.