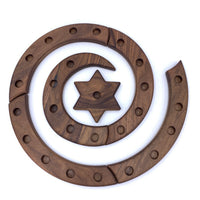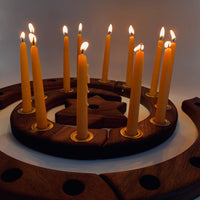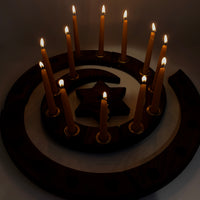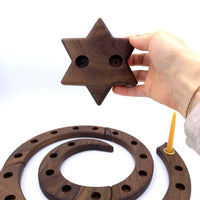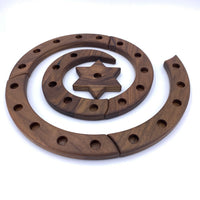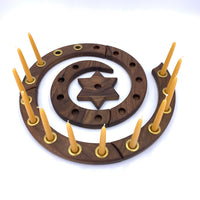 Small Spiral Candle Holder
Regular

$62.50
Sale

$62.50

Regular
Unit Price

per
For celebrating the holiday season, illuminate your home with the warmth and wonder of candlelight while counting down the days to Christmas morning and capturing memories together along the way. Be sure to read details at the bottom of this description. Middle sun is optional. Larger Spiral available here.
- - - - - - - - - - - -
This holder is for you to use however you desire. A few ideas include:
* Create a rhythm or routine for lighting the spiral, perhaps at dinnertime while it is becoming darker outside. Light it the same time everyday to build expectancy and excitement.
* Read a new book each evening by the candlelight. Or share a meal or treat. Tell stories or memories. Make a craft. Or do it all, choosing something new and exciting each day.
* Use it with only one candle or all twenty-five. Either way, begin your journey on the outermost hole of the spiral. Each night either move your candle inward one hole or add another candle next to it. The light then moves inward during the journey towards Christmas. 
* Use a figurine of Mary and Joseph so that they may walk the path of the spiral. Here is one of Mary on the Donkey. 
* Not only for Advent, your spiral may be used for seasonal display, birthdays, and other celebrations. The holes fit any of the popular Grimms Ornaments. The middle sun is reversible from one hole to two holes. This is because you might want to use it at a birthday or anniversary and display two numbers side by side for the age or year--numbers from the Grimms Ornaments selections.
- - - - - - - - - - - -
Made to order and ships in three weeks. If needed sooner, please write a note during the checkout process mentioning your deliver by date. Crafted from walnut. Spans 16 inches across. Use with candles that have a 1/2 inch diameter and a metal holder.
Does not include candles and metal holders. Please visit these links to see ones that will work with our spiral or you may search for your own: Beeswax Candles, Grimms Brass Inserts for a perfect fit of candle in spiral, or for a cheaper option that has a bit of wiggle room in our spiral, you can DIY these Grommets with some hot glue around the bottom outer edge to create a snug fit in the spiral.