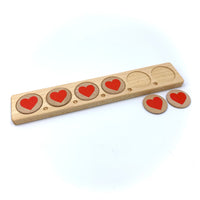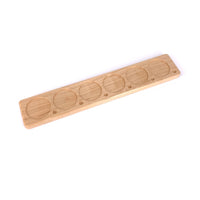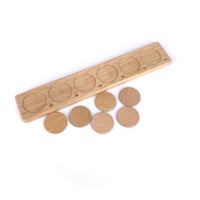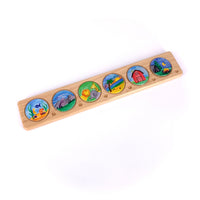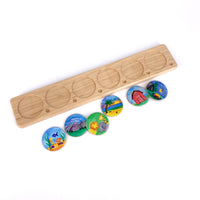 Pacing Board for Speech Therapy
Regular

$18.00
Sale

$18.00

Regular
Unit Price

per
Pacing Boards are used by speech therapists (and now for you at home) to help with speech and language development. The board is a great way to focus your attention on speaking slowly and clearly, pacing yourself to think about what you want to say and are saying, identifying sounds, syllables, words, and forming sentences. You can use it to improve speech articulation and pronunciation. 
Each circle on the board is used to represent a letter, syllable, or word. You can use the board empty by tapping each indentation or add picture coins for a bit more fun. 
Simply tap each coin as you say each word or syllable. When you are finished saying the word or sentence, tap the little dot in the corner to indicate the end. When you work from left to right, just loop back to the left again when you reach the far right circle--that way you can continue until you are finished speaking. 
The images on the coins are merely for fun. You can choose to order the board only or to DIY your own blank coins or pick from any of our Picture Coins options and list them in the personalization box below before adding to cart. If you desire a simple picture such as hearts, stars, moons, suns, etc, you can request that instead.
Made from maple hardwood. Measures 11x2 inches and fits circles with a 1.5 inch diameter. Sealed with a durable lacquer finish.
Here are some websites with more wonderful information on using a pacing board:
https://nwspeechtherapy.com/blog/pacing-boards/
http://communikidsnj.com/the-power-of-a-pacing-board/
https://www.lblesd.k12.or.us/videos/using-a-pacing-board/