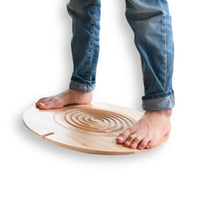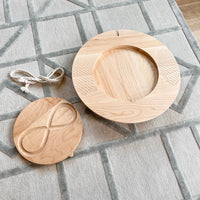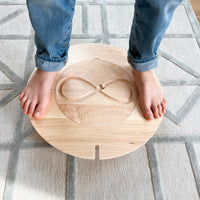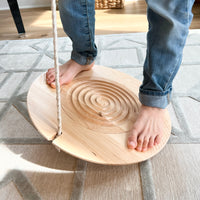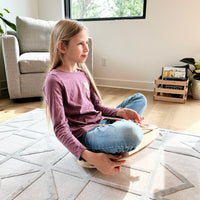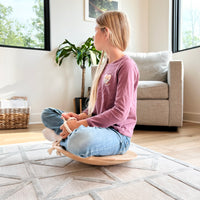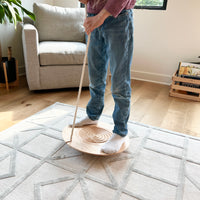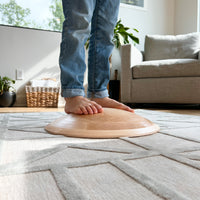 Balance Dome
Regular

$155.00
Sale

$155.00

Regular
Unit Price

per
With so many ways to play, you'll find yourself drawn to this Balance Dome over and over again. Build balance and stability as you stand on the board, rocking it back and forth and side to side. Practice coordination as you move the marbles along the tracks. Use the rope to hold onto for a bit more control. Stand on it, sit on it, lay on it---whatever you like! Great for standing desks, fidgety children, exercise and dancing on, or just for the fun of it. We even have races in our home to walk it across a room.
Watch it in action: Click Here
Features a removable insert that has a figure eight on one side and spiral on the other. Includes rope and wood balls for play. Sturdy, solid construction made entirely from maple hardwood. Additional inserts available to add even more challenges and fun. 
WE SUGGEST: Our "Big Dipper Game" Insert for even more fun.
WARNING: For ages 3 years old and up due to the rope and wood balls. Use caution when stepping onto and off of the board, supporting yourself with the back of a chair or counter as needed. Stepping onto the middle and then moving feet into position is the most stable method. Suggested to use while barefoot or with shoes that have good tread for better traction.
Holds up to 500 lbs.
- - - - - - -
DIMENSIONS: 17 inches wide. 3 inches tall.
INCLUDES: Board, Reversible figure eight/spiral insert, rope, and wood balls.
MATERIALS: Maple Wood. Finished with lacquer.