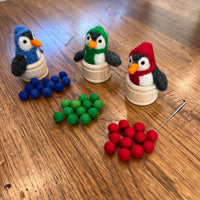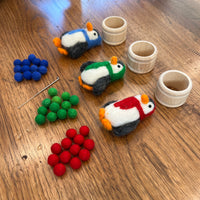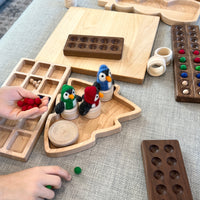 Penguin Play Set
Regular

$20.00
Sale

$20.00

Regular
Unit Price

per
These little penguins are ready for play! They'll accompany you on math games as well as imaginative adventures. Each penguin comes with color-coordinating wool balls and a little holder to place it in for standing upright. The wool balls can be snowballs, food, fishes, or anything else you'd like. Give names to each penguin so they develop personalities! Maybe red is Ruby, green is Minty, and blue is Snowflake. 
For learning, pull out your ten, twenty, or hundred frame to fill up as you tell stories about how the penguins are having a snowball fight. Ruby throws 3 balls at Snowflake. Snowflake throws 5 balls at Minty. How many balls were thrown all together? How about if each penguin has 5 snowballs: how many all together? 
Let's go fishing! Ruby catches 8 fish, but 3 slip away. How many did she keep? Minty caught 12 fish but wants to share them with his friends. How many fish will each penguin get?
Since the penguins don't stand up on their own, I'm including napkin rings that are a perfect little housing to hold them upright. These can simply be holders, but I'm watching as my children call them igloos, cars, food bins, and caves. 
REPAIRING YOUR PENGUINS: The penguins are made from sheep's wool through a needle-felting process that stabs all the fibers of the wool together so they form the shapes. Sometimes during play the wings, feet, or even nose will get pulled off. I know how disappointing this can be, but there is an easy fix! I'll send a needle with the set. Please keep it safe, away from little hands as it is very sharp and has little barbs along its shaft. If you have not done needle felting before, please use caution as you build up your skills. To reattach a torn off part, you'll stab at the area, pushing the fibers back together. Be sure to stab straight in and out--if you go at an angle, you'll break the tip of the needle. Stab as many times as you'd like until the connection between the pieces is tight again. Then they're ready for more playtime!
- - - - -

INCLUDES: Three penguins, three napkin holders, 12 red wool balls, 12 blue wool balls, 12 green wool balls, and 1 needle-felting needle.
MEASURES: Balls are 1/2" diameter. Penguins are 2.5 inches tall.
MATERIALS: Wool and wood.