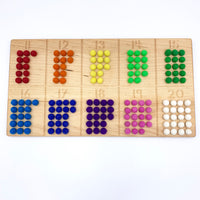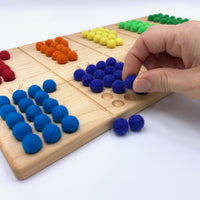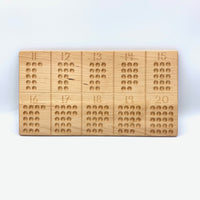 11-20 Counting Board with Wool Balls
Regular

$48.00
Sale

$48.00

Regular
Unit Price

per
Count and place the colored wool balls onto the correct numbers of the board. Each dimple in the wood neatly cradles the balls, allowing the child to practice fine motor skills while conceptualizing the value each number represents.
Grouped into columns of five, your child will easily recognize the number through a glance rather than counting one by one. Number 11 is two groups of five plus one more. Or ten and one more. Following the same thinking, see how 14 is ten and four more? What's the difference between the top row and bottom row? The additional row of five for every number. So now you see how 12 plus 5 equals 17. Top row plus five equals number beneath it. 
The colored wool balls are counted out specifically to match certain numbers on the board following a rainbow pattern. So a simple activity is to place them all together into a bowl and have your child sort the colors, count them, and place each group of color onto the correct number on the board.
- - - - - - - - -
Also available in the shop:
"11-20 Counting Board - Wood Balls"
- - - - - - - - - - - - 
DETAILS:
Includes 155 wool 1/2-inch balls and a thick tracing stick. Balls are a choking hazard for children under 3 years old. Suggested replacements would be snack foods such as dry cereal, raisins, blueberries, etc.

Made from maple wood.
Measures 16.5x8.75 inches. Wood is 0.5 inch thick and weighs 1.5 pounds.
An original "From Jennifer" design. Quick Reference: C20-L