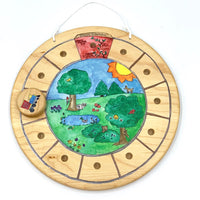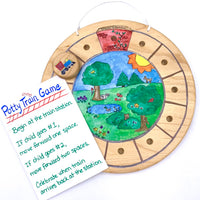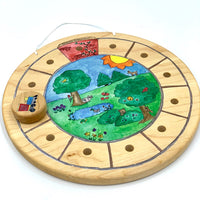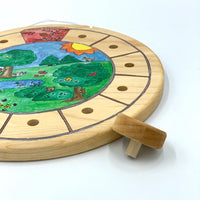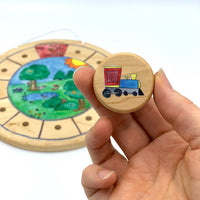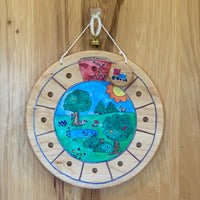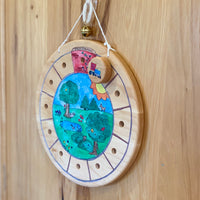 Potty Train Game
Regular

$27.50
Sale

$27.50

Regular
Unit Price

per
This concept first came to my mind as a potty training method with my eldest 9 years ago, but I don't want to limit it to that, so this board game can be used for other learning and play as well.
For the "Potty Train Game," you allow your child to move their train one space when they go #1 and two spaces when they go #2. Once the train arrives back at the station, you can celebrate together and enjoy the success as well as maybe a gift such as new pair of underwear, sweet treat, or something else special. The board can be used on a flat surface or hung on the wall (I suggest using a removable sticky hook such as from the Command brand). I'm including a bell you can hang at the top that your child can "ring" whenever they attempt to go but nothing happens. That encourages them to keep trying and look forward to going.
I painted a lively forest scene for your child to enjoy. Perhaps talking about the picture while waiting for the "go" to happen on the potty. Find all the animals, count the flowers, talk about the colors. Just a way to engage your child to stay a little longer and see if they can go potty.
Since this board isn't specifically titled the Potty Train, I've left it open-ended so that you can use the game board perhaps as a reward chart, moving forward with every good deed and looking forward to making it back to the station. You can play a game with dice by rolling them and moving that many spaces--a very simple game for littlest learners as they practice counting. 
The board will come with the yarn tied at the top for hanging it. If you prefer not to have that option, you can request it in a note during the checkout process.
Made to order. Ships in three weeks. Crafted from maple and printed with my own original watercolor painting. Measures 8.5 inches wide with a 1.5 inch wide train piece.