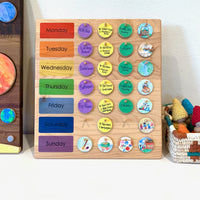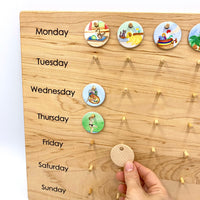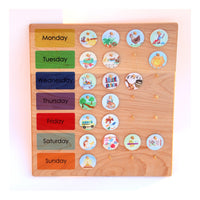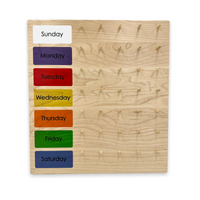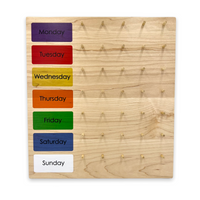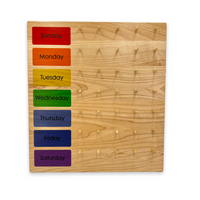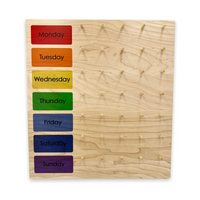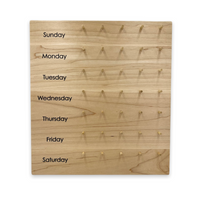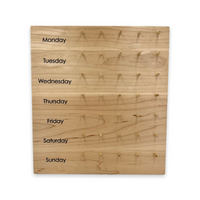 Weekly Rhythm Chart
Regular

$30.00
Sale

$30.00

Regular
Unit Price

per
Children benefit greatly from rhythm and structure. This chart helps them visually see what will be occurring each day and throughout the week. Each family will find their own ways of utilizing this chart, but some suggestions are mapping out your children's chores for the day, lining up their morning/bedtime routine, placing expected events such as lessons, outings, and celebrations, picking out the day's school subjects, or charting the forecast and actual weather each day. Simply flipping the coin over as each one is completed gives the child a sense of accomplishment and joy to see their progress. Two coins can fit onto one peg in case you're wanting to layer activities.
For Moms, this board can be a great way to structure your week as well. Designate each column to things such as Laundry, Meal Plan, Cleaning, Exercise. Write on a slip of paper each goal, cut and tape to the wood coin, and hang on the board. Then you can refer to it for which cleaning day is bathrooms or bedrooms, what you'll be cooking for lunch or dinner, doing yoga or running or stretching. This board can be as fun for you as it is for the children.

This board DOES NOT INCLUDE COINS. You can choose from Blank Coins to DIY or printed Picture Coins.
- - - - - - - - - - - - -
"Rainbow" has Red Color at the top and follows the rainbow: Red, Orange, Yellow, Green, Blue, Indigo, Violet. 
"Waldorf" has designated colors for each day: White Sunday, Purple Monday, Red Tuesday, Yellow Wednesday, Orange Thursday, Green Friday, Blue Saturday.
"Natural" has no color, text only.
"Grimms" has designated colors for each day: Yellow Monday, Green Tuesday, Indigo Wednesday, Purple Thursday, Red Friday, Blue Saturday, Orange Sunday.
- - - - - - - - - - - - -
Measures 12x13 inches. Has a keyhole in the top back for hanging on the wall from a screw or using with our Tabletop Stand. This is the same size as our Home Calendar, so they look nice being used side by side.